How to live a natural, pure, comfortable and cozy life in a fast-paced big city? Mr. Lin, a post-90s designer, made his home a modern and natural style, creating a relaxed and comfortable home atmosphere.
1. Design highlights of furniture products
(1) The layout of the enclosed living room is convenient for communication and hospitality;
(2) Tailor-made corner storage cabinets double the storage capacity;
(3) No worries for working and reading in the exclusive study;
(4) The original pure formaldehyde bamboo board of HOLIKE is selected, which is environmentally friendly and healthy.
2. Furnitures design for different positions in the interior
(1) Living room
Mr. Lin is enthusiastic and likes to hold a party at home, so the living room adopts an enclosed layout with sofas facing each other, which is convenient for family members to communicate and entertain guests.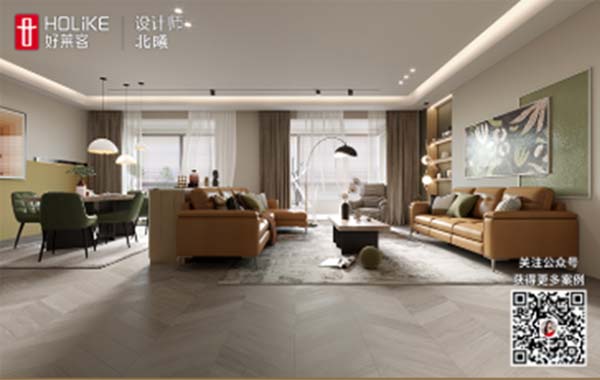 (2) Restaurant
The dining room and the living room are separated by a low side cabinet, which increases the storage and also has a considerable sense of spaciousness.
The size of the dining table is suitable, which can satisfy 4 to 6 people. The line of the table is simple and smooth, and the texture is delicate, like a delicate work of art.
(3) Master bedroom
The wardrobe of Els wood grain + mottled gray color matching is gentle, soft, natural and fresh, and one side is designed as an open cabinet for easy access to commonly used items.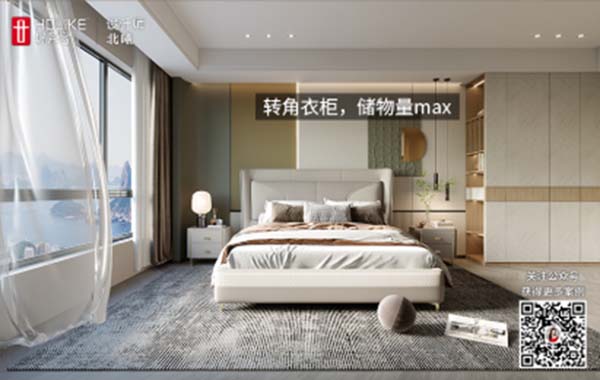 (4) Children's room
The extra-long desk is designed to meet the children's learning needs, and the arc decorative panel of the wardrobe is warm and cute, which is both childlike and storage.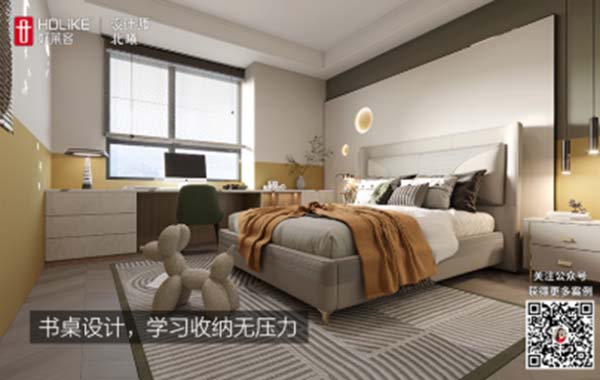 In order to provide a suitable growth environment for children to play and learn, the owner carefully selects the original pure formaldehyde bamboo board of HOLIKE, which can actively release negative ions, effectively adsorb and settle air impurities, and achieve the effect of air purification.
(5) Study room
The owner is busy with work and needs to work from home, so the designer helped him build an exclusive study room, so he can work or read in this room. The bookcase on the whole wall can store magazines and design materials. Owners rave about the easy-to-clean design to the top.